Back Home
About Our Team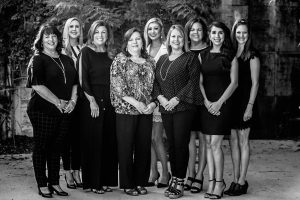 Irene Norton, Amy Nelson, Patti McDaniel, Laura Joiner,
Marcela Crouch, Paula Durocher, Pam Smartt, Adel Gould, Marla McDonald

Pam Smartt, REALTOR®
830-237-1358
Owner of The Smartt Team, LLC
Licensed Real Estate Agent for 12 years
I have lived in the New Braunfels/San Antonio area for over fifty years. With a strong faith and supportive family I am dedicated to giving back to my community both personally & professionally. Outside of real estate, I devote much of my time to activities supporting education and the students in the New Braunfels schools. I have been involved with the New Braunfels ISD Education Foundation since 2009. I love participating in my boys' various activities, especially the New Braunfels High School Band Boosters. Go Unicorns!
I have served on the Four Rivers Association of Realtors (FRAR) Board of Directors, the FRAR Governmental Affairs Committee, the Hill Country Chapter Women's Council of Realtors, the FRAR Texas Real Estate Political Action Committee, and the FRAR Scholarship Committee. I also serve on the Keller Williams Heritage Associate Leadership Council.
I am blessed to have been a multi-million dollar producer since 2005 and have been recognized as a top producer by the San Antonio Business Journal. I have been honored to receive the following awards: FRAR Realtor of the Year, Herald-Zeitung Readers Choice as Realtor of the Year, San Antonio Platinum Top 50, WCR Hill Country Chapter' Entrepreneur of the Year and FRAR Comal County Positive Impact award.
I bring experience in residential, farm and ranch, and commercial real estate. I am thankful each day for the opportunity to serve others in a profession that allows me to meet amazing people and to help make their dreams of home ownership come true.
Paula Durocher, REALTOR®
210-262-4776
I have been in Real Estate for nearly 10 years now. I got into Real Estate in order to help individuals and families reach their goals and dreams of buying and selling their homes. The Real Estate process can be very overwhelming, and I pride myself on helping clients understand the process every step of the way.
My husband and I of 21 years are raising our two children in Schertz; A small town located between San Antonio and New Braunfels. My children are the pride and joy of my life! I am very active with their school and their activities. My son is a Senior at Clemens High School and will be graduating this May. He loves soccer and has been playing ever since he was little. However, this year he decided to get a job and focus on getting ready for college. Currently, he has been accepted to a couple different universities and is weighing all his options. My daughter is a Sophomore at Clemens High School where she is on the Varsity cheer team as well as the UIL competition team. She is also involved in many other activities including the Wildlife team, DECA, and FFA – where she is raising her second lamb.
I graduated from Southwest Texas State University and taught elementary school for 15 years in San Antonio before going into Real Estate. I joined Pam Smartt in 2010 and together we formed The Smartt Team, Your Smartt Texas Realtors. Having grown up in this area I can be a trusted resource for answers about our community. I have always been involved within my community and still am today. I have previously served on the Board of Directors for Four Rivers Association of Realtors in 2018 and 2019. I have been on the Scholarship committee since becoming a Realtor in 2010. Currently, this year I am Co Chair of the Programs committee for our association. I am active in The Women's Council of Realtors, where I served as the 2017 President, and the 2016 President Elect. I am also active in TREPAC, and an Ambassador for The Chamber (Schertz, Cibolo, Selma). In 2011 I received the New Braunfels Board of Realtors Rookie of the Year award. Also, in December of 2015 I received the Women's Council of Realtors Entrepreneur of the Year.
I look forward to a great 2020 and to helping you with all your Real Estate needs.
Patti McDaniel, REALTOR®
210-723-9357
After working in the Property Management industry for 21 years, I decided to make a change and become a licensed real estate agent. I love helping people find a place to call home in our beautiful city, and will go above and beyond for customer service. In property management, I won Manager of the Year, and Property of the year 3 times. I plan on bringing the same drive and passion into Real Estate.
Currently, My husband of 30 years and I live in New Braunfels. We have two sons, Austin and Dakota. Austin is 25, in the Army, and is currently station stateside. Dakota is 22 and working for a mechanical contractor.
Being a part of the community I live in is important to me. I have been a member of the Chamber of Commerce for the past 8 years, and I am Commissioner of the Landmark Historical Committee. I am a member of and was Treasurer of New Braunfels FFA, a member of the Comal County Junior Livestock Show and I recently joined the New Braunfels Women's Chamber.
My family has been in the New Braunfels, Schertz, and San Antonio area for my entire life. I know I will be able to help you find a home where you can set down roots and grow into our community, becoming intertwined in the culture and fun that defines and sets apart our area.
Amy Drummond, Director of Transactions and REALTOR®
936-414-3108
I joined The Smartt Team in April of 2016. After working in the Oil & Gas Industry for over 8 years I decided it was time for a change. I wanted to do something that would give me a sense of fulfillment. What better way to do that than to help people find their dream home? I am the Director of Transactions for the team and work very hard to help make the process go as smoothly as possible. I obtained my Real Estate license in July of 2017 and joined our local chapter of Women's Council of Realtors to help me grow and network with other realtors in the area.
Adel Gould, Director of Marketing and REALTOR®
830-302-0368
I am part of The Smartt Team at Keller Williams Heritage. I was born and raised in beautiful New Braunfels and my husband and I purchased our first home here in 2018. I have 9 years of experience covering areas all over the business (including compliance, strategy, business intelligence, training and more). I graduated from Texas State University with a Bachelor's in Business Administration while achieving to being in the top 5% of my business school. I am always striving to bring 100% to the work that I do, and my goal is to build strong, long-term, mutually beneficial relationships with clients, co-workers and realtors.