Back Home
About Our Team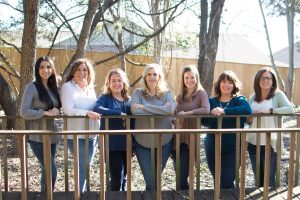 Pictured: Adel Gould, Patti McDaniel, Paula Durocher, Amy Nelson, Marla McDonald, Irene Norton, Pam Smartt

Pam Smartt, REALTOR®
830-237-1358
Owner of The Smartt Team, LLC
Licensed Real Estate Agent for 12 years
I have lived in the New Braunfels/San Antonio area for over fifty years. With a strong faith and supportive family I am dedicated to giving back to my community both personally & professionally. Outside of real estate, I devote much of my time to activities supporting education and the students in the New Braunfels schools. I have been involved with the New Braunfels ISD Education Foundation since 2009. I love participating in my boys' various activities, especially the New Braunfels High School Band Boosters. Go Unicorns!
I have served on the Four Rivers Association of Realtors (FRAR) Board of Directors, the FRAR Governmental Affairs Committee, the Hill Country Chapter Women's Council of Realtors, the FRAR Texas Real Estate Political Action Committee, and the FRAR Scholarship Committee. I also serve on the Keller Williams Heritage Associate Leadership Council.
I am blessed to have been a multi-million dollar producer since 2005 and have been recognized as a top producer by the San Antonio Business Journal. I have been honored to receive the following awards: FRAR Realtor of the Year, Herald-Zeitung Readers Choice as Realtor of the Year, San Antonio Platinum Top 50, WCR Hill Country Chapter' Entrepreneur of the Year and FRAR Comal County Positive Impact award.
I bring experience in residential, farm and ranch, and commercial real estate. I am thankful each day for the opportunity to serve others in a profession that allows me to meet amazing people and to help make their dreams of home ownership come true.
Paula Durocher, REALTOR®
210-262-4776
I have been in Real Estate for nearly 11 years now. I got into Real Estate in order to help individuals and families reach their goals and dreams of buying and selling their homes. The Real Estate process can be very overwhelming, and I pride myself on helping clients understand the process every step of the way.
My husband and I of 22 years have two children and we live in Schertz; A small town located between San Antonio and New Braunfels. My children are the pride and joy of my life! I am very active with their school and their activities. My son is a freshman at Texas State University. His major is Marine Biology with a minor in Chemistry.  My daughter is a Junior at Clemens High School.  She is involved in many activities including the Wildlife team, DECA, and FFA – where she is raising her third lamb and her first steer this year.  Dani is also a coach at J&R Gymnastics in New Braunfels.
I graduated from Southwest Texas State University and taught elementary school for 15 years in San Antonio before going into Real Estate. I joined Pam Smartt in 2010 and together we formed The Smartt Team, Your Smartt Texas Realtors. Having grown up in this area I can be a trusted resource for answers about our community. I have always been involved within my community and still am today. I have previously served on the Board of Directors for Four Rivers Association of Realtors in 2018 and 2019. I have been on the Scholarship committee since becoming a Realtor in 2010. Currently, this year I am Co Chair of the Programs committee for our association. I am active in The Chamber, The Women's Council of Realtors, where I served as the 2017 President, and the 2016 President Elect. I am also active in TREPAC, and an Ambassador for The Chamber (Schertz, Cibolo, Selma). I am a 2020 graduate of Texas Realtor Leadership Program. In 2011 I received the New Braunfels Board of Realtors Rookie of the Year award. Also, in December of 2015 I received the Women's Council of Realtors Entrepreneur of the Year.
I look forward to a great 2021 and to helping you with all your Real Estate needs.
Dana Durocher, REALTOR®
210-386-0682
I was born in San Antonio, Texas, at Wilford Hall Medical Center, Lackland Air Force Base.  Upon retiring from the United States Air Force, my parents decided to make San Antonio their home.  At age 4 we moved to "the country", a small town (at that time) of Bulverde, TX where I grew up, went to school, and spent most of my life.
Besides working student jobs while attending school, I have only had three "real" jobs in my entire career… a Court Reporter (where I got to live in Trinidad & Tobago for four years), salesman and sales manager for a global technology company, NCR, and now as a Realtor® for Keller Williams.  After 21+ years with NCR I decided I needed a change and thought, what could be more gratifying than helping people accomplish their dreams of home ownership?  And what better team to join than The Smartt Team that includes my wife of 22 years, Paula Durocher, and her two sisters, Patti McDaniel and Pam Smartt!  I am excited to be a part of this team because of their faith, family values, and their relentless desire to give back to the community.
Outside of work my passion is traveling, including foreign countries, scuba-diving, fishing, camping, and just about anything outdoors!  Prior to my son going off to college, I loved attending his soccer games (especially in London).  My daughter, who is a senior in high school, did competitive cheer since she was 5 years old and is now involved in FFA – I now love attending her shows for both her steer and lambs.
With NCR I was blessed to be a top-producing salesman and President's Club member every year. I am driven by my passion to serve and help others, and strive to develop long-term relationships, both professionally and personally.  I look forward to carrying this passion over into my real estate career by treating clients with the same mentality, relationally, and not transactionally.
Patti McDaniel, REALTOR®
210-723-9357
After working in the Property Management industry for 21 years, I decided to make a change and become a licensed real estate agent. I love helping people find a place to call home in our beautiful city, and will go above and beyond for customer service. In property management, I won Manager of the Year, and Property of the year 3 times. I plan on bringing the same drive and passion into Real Estate.
Currently, My husband of 30 years and I live in New Braunfels. We have two sons, Austin and Dakota. Austin is 25, in the Army, and is currently station stateside. Dakota is 22 and working for a mechanical contractor.
Being a part of the community I live in is important to me. I have been a member of the Chamber of Commerce for the past 8 years, and I am Commissioner of the Landmark Historical Committee. I am a member of and was Treasurer of New Braunfels FFA, a member of the Comal County Junior Livestock Show and I recently joined the New Braunfels Women's Chamber.
My family has been in the New Braunfels, Schertz, and San Antonio area for my entire life. I know I will be able to help you find a home where you can set down roots and grow into our community, becoming intertwined in the culture and fun that defines and sets apart our area.
Austin McDaniel, REALTOR®
210-473-5843
I grew up in the Schertz area and moved to New Braunfels just before high school. I worked at Schlitterbahn during my time at New Braunfels high school, then graduated in 2011. After high school I worked for a sheet metal company, known as DSI, for about a year and a half. After working for DSI, I decided to change my career path and joined the United States Army. I served as a 25 Bravo (Information Technology Specialist) that was also Airborne. I did a short stint in Afghanistan between 2017 and 2018. Soon after my deployment, I wanted to change up my career again. So, I started looking into other career options. After researching my options, I decided I would sign up for online classes while remaining in the service, and I began working toward getting my real estate license. 
After many hours of real estate courses, and a few field exercises while in the Army, I separated from the Army with an Honorable Discharge and continued to finalize getting my real estate license. After a few weeks, I finally got my license, and I am very excited about this new chapter in my life. I hope to help my clients by doing my best to ensure that they leave satisfied. I am very grateful to be part of a team that genuinely cares and looks out for their clients, and is so involved with the community. I am also very thankful that I get to learn from the other agents on The Smartt Team and experience this new journey alongside them. I look forward to using all that I learn to help our clients to the best of my ability.
Marla McDonald, REALTOR®
210-316-9722
I was born in Omaha, Nebraska but I got to Texas as quickly as I could!  My family moved to Kingwood, Tx when I was two years old and relocated to Boerne when I was eleven years old. After discovering my passion for golf , I was recruited by Texas Tech University to play Division I golf. Go Red Raiders! I had a blast traveling the country, competing, and making lifelong friends on the golf team. Taking my love for golf in a different direction after graduation, my husband and I ran Birdee's Golf Center, a golf practice and teaching facility in New Braunfels. After seven years, we decided to sell and who did we contact to list for us…The Smartt Team, of course! With the encouragement of Pam, I soon had my own real estate license and began helping my friends and family to buy and sell real estate. After several years in real estate, I recognize that each client I get to work with is entrusting me with far more than just the sale or purchase of a home. It's my hope that when a client of mine closes on a sale, I've helped each of them move into a place in which they can live life to the fullest. When I'm not helping clients buy, sell, or invest, you might catch me working on my golf game with my husband and our 4 year old, playing pickleball, or playing piano in church!
Adel Gould, REALTOR®
830-302-0368
I am part of The Smartt Team at Keller Williams Heritage. I was born and raised in beautiful New Braunfels and my husband and I purchased our first home here in 2018. I have 11 years of experience covering areas all over the business (including compliance, strategy, business intelligence, training and more). I graduated from Texas State University with a Bachelor's in Business Administration while achieving to being in the top 5% of my business school. I am always striving to bring 100% to the work that I do, and my goal is to build strong, long-term, mutually beneficial relationships with clients, co-workers and realtors.
Amy Nelson, Director of Transactions and REALTOR®
936-414-3108
I joined The Smartt Team in April of 2016. After working in the Oil & Gas Industry for over 8 years I decided it was time for a change. I wanted to do something that would give me a sense of fulfillment. What better way to do that than to help people find their dream home? I am the Director of Transactions for the team and work very hard to help make the process go as smoothly as possible. I obtained my Real Estate license in July of 2017 and joined our local chapter of Women's Council of Realtors to help me grow and network with other realtors in the area.
Irene McLaren Norton, Operations Manager
210-945-4222
I have lived in the Cibolo/Schertz/New Braunfels area for over 20 years and recently purchased a fixer upper with my husband in the heart of New Braunfels.  I love the idea that any house, old or new, can be transformed into your own personal vision of a dream home. 
After attending Texas A&M University-College Station and pursuing my Masters in Educational Administration at Texas A&M Corpus Christi, I taught math in the public schools for eight years before homeschooling my four children for 15 years.  I successfully sent my two oldest children to college at Texas Tech University and Texas State University while continuing to manage the schedules of my two high school students. My most recent work experience was at Northeast Lakeview College in Admissions helping students enroll in college. 
I am excited to be a part of this amazing team.  I love the positive energy this group has about helping clients find their very own dream home and I will be here to assist The Smartt Team in continuing to be a successful top selling team.
Kaylynn Slayton, Director of Marketing
281-684-4354
This is my first year with The Smartt Team and I am super excited to be a part of the team! I am originally from Cypress, Texas, but I moved to San Marcos in 2019 to continue my education at Texas State University. I am currently pursuing my Bachelors in Digital Media Innovation, and expect to graduate in 2023. I have prior experience in social media management, advertising, and web design. My mother is a Real Estate Agent as well, and used to work with Keller Williams when I was growing up, so when I found out about this position and the opportunity to become more involved in the world of Real Estate, I was thrilled. I am dedicated to supporting the team and their business, and aim to promote all of their accomplishments and show off their hard work.